When it comes to Lipstick - Long Lasting does not mean smearproof. LIP-INK® International, produces the world's only natural, organic multi-patented smearproof wax free technology lipsticks.

You are being personally invited to take the challenge & test drive their guaranteed smearproof lipstick. LIP-INK® Lip Color comes with a Remover because it really does, take a remover to take it off. That's our SmearProof Guarantee.

We are so confident you will love our product, we are letting you try it for free! Simply follow the directions below and upgrade to guaranteed smearproof lip color!
Trade in your Long Lasting lip color,

we will recycle it for you at our local toxic waste site.

LIP-INK® International will send you a free, three step process lip coloring trial kit in our seasonal color in either Sandwood or Rosewood, absolutely FREE including shipping. Our guaranteed smearproof trial size kit is valued at $19!
(color is either Sandwood or Rosewood)

Complete information below, fill out downloaded form and enclose your current long lasting lip color and receive your Lip Ink® guaranteed smearproof, semi-permanent lip coloring kit absolutely free.

Available to New Lip-Ink® customers only *Limited Time Offer - Until Supplies Last!

ATTENTION:
International orders must pay $13.95 US Dollars for shipping and handling fees to receive the Kit. Enter credit card information on the download form. USA shipping is free.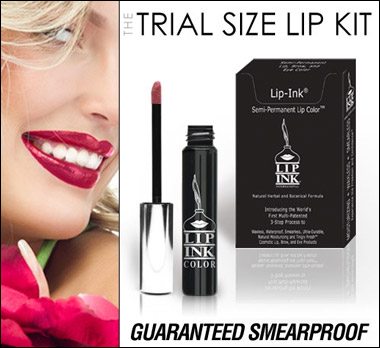 Since Long Lasting does not mean smearproof - Why not try the only Lip Ink® patented, semi-permanent, wax free lip coloring technology? It gives you both long lasting and smearproof qualities; from organic sources & naturally safe, by keeping your lips tingly fresh, moisturized and sun protected 24-7 .


Be one of the first to act now and experience this
eco friendly technology for your lips.
* LIMIT ONE PER CUSTOMER

Lip-Ink® What We Do Best
File Size: 7.98 MB

You will need Acrobat Reader

Lip-Ink® Philosophy
File Size: 2.92 MB
You will need Acrobat Reader